Share Your Story about Gay Games VII
Is this your first Gay Games or your 7th Gay Games? Tell your story in your words. You are welcome to submit updates or email me to remove or change your story. I will try to update the entries every night from my hotel in Chicago. Scroll down for photos.
-------------------------------------------------------------------------
This is my first Gay Games. I am very excited. I was planning to attend for only a couple days and fly back to Seattle. I had the privilege to meet Paul Mart, one of the 3 co-founders of the Gay Games while he was in Seattle in June of 2005. He really made an impression on me about Tom Waddell's vision. Paul also charmed me and explained the entire weeks events that I could expect. I extended my stay to 9 days and entered 1 more event. I also started training, losing weight, getting faster. I ran the Seattle Masters Track Event July 8th and did a personal best at the 5000m race. I will be running the 10K race on Monday morning and the 5000m track event on Friday. You will see me at your events. Let the Games begin!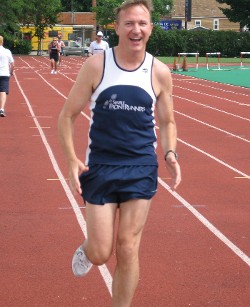 Kelly Stevens - Co-Chair Team Seattle - Seattle Frontrunner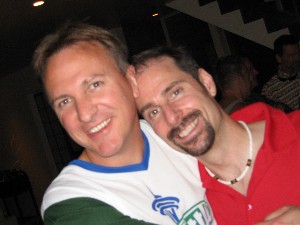 -------------------------------------------------------------------------
Hi Kelly,

This is my fourth Games. The first in New York. The Seattle Men's Chorus was the guest of the New York Chorus, and we sang at Carnegie Hall. A member of the chorus who was a runner, Steve Bergland, told me I should register for the Games since they were during that same week. I had not ever heard of the Gay Games. I registered for the 5K road run and fortunately it was in the AM . Originally it was scheduled for the PM. We didn't know how we would make it to Carnegie in time to sing and be dressed in our tuxedo. We discussed dressing in a taxi as we road to the Hall. Fortunately, it was changed the week before the games to AM. I won a Gold medal and I wore my medal at the Concert that night. We had four standing ovations in our 40 minute concert. That was a thrill to walk on the that famous stage for the first time with my medal around my neck. I had been in the chorus only 3 years at that time. I just finished my 15th year last week. I have participated in every Games since then. I will also be in Montreal with my team. That day 24 June 1994, will be remembered for ever by me. Thanks for the opportunity to tell my story. I was 58 years old then.
Jerry Lewis - Seattle Frontrunners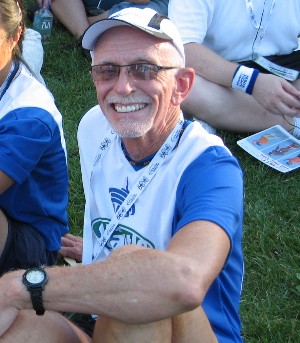 Jerry Lewis waiting for opening ceremony in Chicago.
-------------------------------------------------------------------------

This is my first trip to the games. I was surprised to find out, several years ago, that ballroom dance was an event at the games. When I looked at the Chicago games web site and saw that country and western dance was, too, I knew I had to go. I talked my friend Marcella into dancing with me, and we started spiffing up our waltz, two step, swing and line dances. We share the attitude of just wanting to have a good time dancing. I also have a lot of good support from friends and my domestic partner, and the dance community, here.

I am in the early stages on Hungtingtons Disease, a neurological disease that gives me involuntary movements and affects my balance. So, that present a challenge. But, it also reminds me not to put off things that are important to me. And dancing is one of those things. Marcella is really good about helping me adapt our dance routines to my limitations. And we have teachers who are sensitive about that.

I feel well prepared and ready to rock.

Marian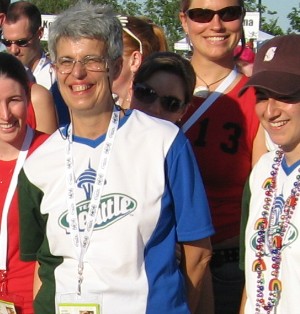 -------------------------------------------------------------------------
Gay Games Marathon 2006, Chicago
Every marathon I run has been a question mark: What kind of shape am I in? How fast should I go out? How fast are my competitors? How much should I eat and drink?
This marathon was an even bigger unknown for me. After my last marathon at Gay Games VI in Sydney, I switched my focus toward triathlons. I began swimming and cycling and cut back my running to about 3 days per week. At that time I didn't think about which events I would do at the next games scheduled to be in Montreal, but did want to run the marathon again, after having such a good time in Sydney.
When the "split" (Gay Games vs Out Games) occurred we were all suddenly faced with two games, with just one week in between. I heard that most of the Frontrunner clubs in the United States and Europe decided to go to Montreal, so I wanted to go where my team was going, and where I felt the best competition would be. However, I had an amazing time in Sydney and was inspired by the Gay Games and the tremendous participation and support that surrounded the Games and wanted to continue to be a part of that and to run the marathon again. I also vowed to do more events- it was difficult in Sydney to watch track and field all week and not compete until the last day. I realized it is more about participating and that some sacrifice in performance was worth the chance to compete in more events, help my team, and meet more people from around the world.
It would be difficult but I decided to spend a few days at the Gay Games and run the marathon, and then spend the whole week in Montreal and run the 1500m on the track, the 4x400 if my team could use me, and the Olympic distance triathlon. This proved to be difficult to prepare for when the focus of my year has been on 1/2 ironman triathlons with a season that started in March and will conclude with the world championships in November. I knew it would not be ideal to schedule a marathon on July 22, and then two short track events and a triathlon within the next 12 days. People around me think I'm crazy, but I reminded them the point is to participate, compete to your best ability, and continue the spirit of these two major events for our community, worldwide.
Needless to say, having not trained for a marathon in 4 years, this marathon was a tremendous question mark for me. I had no idea what kind of pace I could hold, nor what kind of time it would take to win. I expected the guy from Washington, D.C., who was in 2nd place most of the race in Sydney (before passing out from heat exhaustion), would be back and focused on running well. As we toed the line at 6 am, I looked around and did not see him. I relaxed a little and took the lead when the gun went off. One person, Jonathan Rossing, fell in behind me and ran stride for stride down the bike trail.
The course was changed a few days before the race (much like Sydney). They made it an 6.5 mile out and back on the bike trail- meaning a 180 degree turn every 3.25 miles. We did this "loop" 4 times. I believe the change was made so that water stations would be more frequent and first aid would be closer to all points of the race. It was a little repetitive, and at times, dangerous, as the course was open to the public including walkers, joggers, in-line skates, and bicycles. One time we even had to move off the trail onto the dirt for a car (park employee, I hope). On the "out" section of the course we had a tail wind, and, thus, a strong head wind as we returned toward the finish each time.
After leading the first loop, and Jonathan staying in close contact, I began to realize I may have a race on my hands and that leading the whole way, especially into the headwind, would give him a definite advantage. Mid-way into the 2nd (about mile 9) lap, Jonathan took the lead and I tucked in behind to try to relax for a bit. He was running very smoothly, gliding along, with a very even pace. We were clicking off 6:20 miles like a metronome. On the third lap (miles 13-16), he was still leading and I began to fatigue. My mind started wandering and I realized how strong he was and that defeat was a strong possibility. These are not good thoughts to let creep in after running 17 miles and I still have 9 to go. The gap between us started to open to one meter, then two, and I thought I was done for, but just then we approached the turn-around at mile 17 (1/2 way of lap 3), which meant we would then be heading back into the wind. I pushed hard to catch him before the turn. This critical for 2 reasons: 1. Not let him see the gap that was happening and, 2. be able to tuck in behind him heading into the wind to save precious energy. This worked and the wind slowed him enough that I could keep up the rest of the lap. As we began our last loop (miles 20-26) he seemed to be showing his first signs of fatigue. (Finally!)
I began to have hope the race was not lost and that anything was possible if I could survive to the last turnaround where I could draft again one last time into the headwind and get near the finish still in contact with him. This plan unfolded well (meaning I didn't fall off the pace on the last loop) and we were stride for stride as the final miles clicked by. I decided to wait to sprint until I could see the final stretch where we left the bike trail and ran onto the grass field to the finish. When I saw the orange cones signaling the turn onto the field I got on my toes and started to kick hard. This lasted about 2 strides when my calves began to seize and cramp with a strong statement letting me know I could go no faster than about 6 min/mile pace. I backed off the pace hoping the cramps were a false alarm and could try another attack. At that time Jonathan began his kick and pulled up next to me and I tried again to match his speed, but, again, my calves cramped, and said "no!" I could do nothing as Jonathon pulled away strongly to the finish and won by 7 seconds.
It was a fantastic duel. We ran 26.1 miles and nearly 3 hours stride for stride and the race came down to a kick. That is rare in marathons. I think it was fun for the fans to have the course set up where they could see us 8 times and watch the build up to a great run. It was just unfortunate that the course was open for public recreation.
Although I came up short, I was happy with the race and my time. I had no idea what to expect off triathlon training, and running 2:48 was a nice surprise. I believe its Jonathan's best time, but not certain. I do know he has much faster marathons in his future as he gets stronger and more miles and experience under his belt. He is very strong and ran a well-paced race which is critical in the marathon. Misstakes over that distance are exponential.
After the award ceremony, I got lunch and a quick nap before going to the closing ceremonies. It was my first time at Wrigley field which was exciting, plus they put on an amazingly fun and inspirational show. I'm really fortunate I was able to get to the Games, if only for few days.
I look forward to Cologne and am relieved the next Gay Games and Out Games will be more than a week apart.
Well, time to go stretch and find my track spikes, wet suit, and passport. Bon jour Montreal!
Jake Bartholomy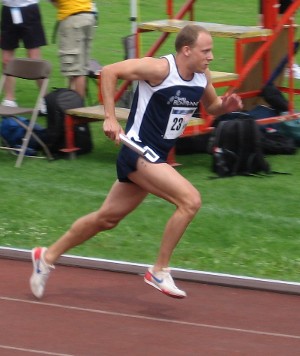 Jake in relay at Montreal Outgames 2006.
Jake also ran Track and Field in Montreal
-------------------------------------------------------------------------
Chicago Track and Field
Chicago was a fantastic experience, too. I have never participated in such a diverse and supportive event. People of all ages, races, shapes, sizes and ability levels. I saw a guy who was not built for the hurdles competing anyway. He kicked down most of them, but he did clear a few of them too. I went over to congratulate him, and he said at the last games he fell over most of them. That gave me a lot of inspiration. It was great watching my teammates do so well, too. I hope I can run like that someday. And seeing Russ set a PR in the pole vault was a beautiful sight.

Although I couldn't go to Montreal, watching all your names show up in the results posted on their web site was also a thrill. At least until I saw Len listed as "Did not finish" for the 200. That was troubling until I got Britt's e-mail with the story about Len and Ryan. Thanks, Britt! Never a dull moment with Frontrunners. I can hardly wait 3 years until Copenhagen.

Woody
Seattle Frontrunners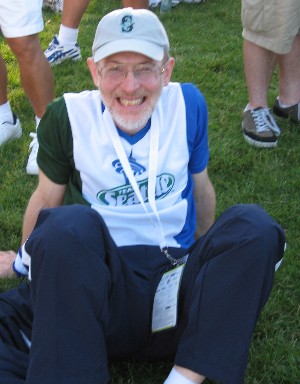 Woody at Gay Games VII Chicago 2006
Figure Skating
I had a great time at Gay Games! It was my first but I had heard of how great they are from my women martial arts buddies who participated in the past. In Chicago, I competed in figure skating. I have participated in many adult figure skating competitions and they all have been supportive and friendly, but the skating competition at Gay Games was unique in its camaraderie and easy-going atmosphere, especially unusual in the practices just prior to competing. It was also an incredible treat to perform to the huge, enthusiastic, and appreciative crowd during competition. At other competitions, we usually only skate for the other competitors and a few of our die-hard skating friends and family.
My special accomplishment was to skate a pairs program with a woman from Rochester, NY, who I had only met on email. We had no pairs experience. I practiced my part of the program based on a video of the choreography Sara sent me, and she practiced hers. When we first skated together on the Saturday before the Tuesday we were to compete, we realized how hard pairs skating is and what a challenge it would be to get the program ready for an audience! Privately we both thought about scratching. Now we're so glad we didn't because the hard work during our four practices paid off in our two performances -- in competition and the exhibition. The program wasn't as smooth as we'd like, but it was really fun and we did it! In the end, I got two silvers and one bronze medal for the three skating events I entered.
It was great to meet everyone in Team Seattle at Opening Ceremonies. Thanks, Joe, for your friendship (how did you do in your events?), and thanks, Kelly, for all your work organizing us.
Debbie L.
Our proudest moment (photo by John Gress, http://www.johngress.com/gaygames ):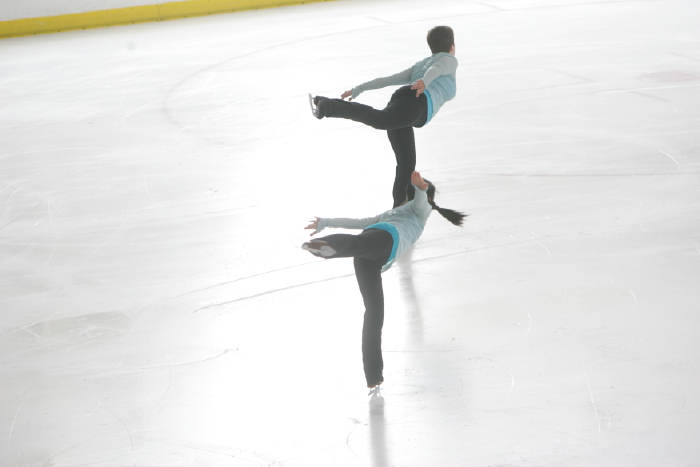 -------------------------------------------------------------------------
This is a link to about 90 pictures that Keith took at the Gay Games. It includes pictures of all three Seattle Softball Teams and the Seattle Volleyball Team as well as Keo with his medals, Dixie and opening and Closing Ceremonies.
http://web.mac.com/halperinkc/iWeb/Site/Library.html
--------------------------------------------------------------------------------------------------------------
Emerald City Softball Association Gay Games News
ECSA Members Bring Home Gay Games Medals

Members of the Emerald City Softball Association Open Division won
medals in no less than three sports at the Gay Games VII, held July
8-15 in Chicago. Three ECSA teams — the Blue Sox, Sting, and Alley
Cats — also participated in the softball competition. Several others
traveled to the Games to participate in basketball and tennis.
Congratulations to all who participated — and a special congratulation
to the following medalists:

Gary Carter (Wolfpack)
Chris Larsen (Wolfpack)
Michael Lunde (Wolfpack)
Gold Medal — Softball

Gary, Chris, and Michael played on L.A. Team Energy, a nationwide
pick-up team. They brought home a gold medal in the Open "A" Division
– the most competitive softball division at the Games. Team Energy
made it to the championship game through the winner's bracket before
losing to the North Georgia Bulldogs. Then in the "if" game, Team
Energy came back from a 14-run deficit in the second inning to beat
the Bulldogs by one run. Congratulations to all three for bringing
home the gold — and a special thank you to Gary, aka "Dixie", for all
he's done for Emerald City Softball over the years. As announced
during the league awards ceremony earlier this month, he is headed
soon for a new adventure in Atlanta. We'e going to miss you, Dix.

Brant Lyerla (Blue Sox)
Donn Rupp (Naughty Angels player, and Dragons coach)
Shad Reichart (formerly of the Brewers)
Gold Medal — Volleyball

The Madison Pub Rainmakers, of which Brant, Donn, Shad, Michael, Sean and Andy are
members, won the B Division gold medal. Also on our team was Ed 
from Vancouver and Matt from St. Louis.  After finishing 8-4 in round
robin play, they dominated their way through the double-elimination
tournament as the #4 seed. Off all the Seattle athletes at the Games,
the Rainmakers participated in one of the most international of all
the competitions, facing teams from Mexico, France, Chile, Cost Rica,
and New Zealand.  

Gary "Keo" Keopanya (Brewers) Two Gold Medals, One Silver Medal — Darts
Elie Henry (Bulldogs) Silver Medal — Darts

It is no mystery that Keo is one of the best pitchers in the ECSA, but
his performance in darts at Gay Games was simply phenomenal. Keo
walked away from the events having earned both of the competitive
division individual gold medals — cricket and 501. Then, in the
competitive division pairs event, Elie Henry and Keo teamed up to win
a silver medal in "501". They also finished in fourth place in the
competitive pairs cricket competition.

If you are aware of any other ECSA members who medaled at the Gay
Games, please contact Membership Director Jeff Card
(jeffcard@gmail.com) to ensure we properly recognize all our members
for their accomplishments.
-------------------------------------------------------------------------
Hi Kelly,
I had such a good time at the games. I met a lot of new people, went to great parties and swam very well also.

50 fly-1st place and gay games record
50 back-1st place and gay games record
50 breast-1st place and gay games record
50 free-1st place and gay games record and a united states masters national record
100 IM 1st place and gay games record

Lisa Dahl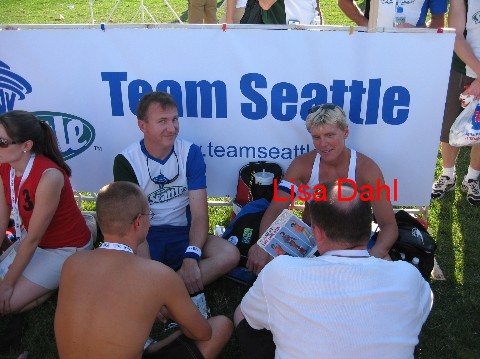 -------------------------------------------------------------------------
Seattle Martial Arts Women Bring Home Gay Games Medals

Two women martial artists who train at Seven Star Women's Kung Fu in
Seattle won three medals at the Gay Games VII, held July 8-15 in Chicago.
Michele Miller won two gold medals and Heather Coyle a bronze for their
performances in the Women's Black Belt Forms divisions.

Miller won her first gold in the Women's Senior Black Belt Weapons
division, competing against Coyle who won the bronze. Both performed forms
in the Northern Shaolin style. Miller used the elegant Chinese
double-edged sword or Geem, and Coyle wielded the shorter, heavier Broadsword
or Do. In the empty hand forms, Miller won the gold again in the Women's
3rd Dan and above Division with another Northern Shaolin form, Di Ba
Lo. The two women study Northern Shaolin with Cheung Yiu Shing in Hong
Kong, where they learned the forms for the competition. They both are
students at Seven Star Women's Kung Fu, a Kajukenbo school in the Central
District, which is celebrating their twenty five year anniversary this
fall. Miller is a 3rd degree black belt at the school and Coyle holds a
green belt in Kajukenbo, as well as a black belt in Chung Moo Do.
Sigung Barbara Bones, also of Seattle coached them for the competition.

Thanks Sigung!!!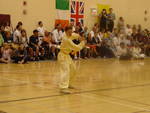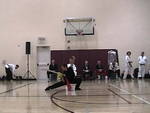 -------------------------------------------------------------------------
Chicago Gay Games.. "A Tennis Player's Story"

This is my fifth Gay Games....3rd as a participate and 2nd as a
volunteer..
.My experience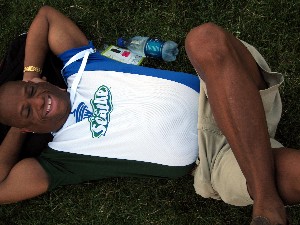 Day 1... Saturday, July 15th..
.we arrive on time on Alaska Flight 12 promptly at 2:30 P.M. at
Chicago's O'Hare Airport..after waiting 45 minutes for our make-ups bags to
appear on the turnstile, we decided to grab a taxi to our luxurious
downtown accommodations. But as we entered the taxi we noticed something
very strange and unfamiliar in the air....I believe these people call it
HUMIDITY.!!..my first thought was DAMN..there goes my gold medal. but on
we went..Upon arrival at the Swissotel on Wacker Drive (where the River
meets the Lake) we hurriedly shower to make our way down to the
register Hotel a mile up Michigan Avenue. There we were shuffled from line to
line getting our gay credentials and non-goody bags. It was now 6:00
and we were already an hour late for our line-up time for the marching
procession. Screw that girls..Momma need some nourishment..so we
sauntered over to State Street and found a rather raunchy bar and ate some
raunchy food..hmmm hmmm good..we then walked our way over to Soldier
Field to look for our place in line where. We first noticed that the word
"Volunteer" at this event meant "I b knowin' nuttin' bout what you b
assing me"...we moved on and finally found a stick with the word
Washington on it and figure this is home. It is now 7:30 so we have a half hour
before the procession is to start..tick tock..okay girls..9:00 let's
get these queens in the stadium.. 9:45 and we finally are told to RUN
onto the field with enthusiasm..AS IF.!!..It was another wonderful
experience though.. To see all the difference countries..
.Ethiopia with there lonely participant...great to see they gave him a
standing ovation..okay.. Speeches, speeches, singers, bad dancers,
speeches, speeches, comics (Margaret Cho was the best with her 10 minutes)
later..It's now 12:15 and momma has a 9:30 singles match...but they
haven't set off the fireworks and lit the caldron...GIRLENE..she's had
enough.. So back to the hotel we went..

Day 2....Sunday, July 16th..
.we're up and ready for competition...Patrick has a 11:00 match at one
venue and Robert decides to join me at my 9:30 match at another.. We're
up early and decide to have breakfast ..It's now 8:30 and already 85
degrees outside.!! A sign of things to come..I get to my match site
around 9:10 and run into more of those "Volunteer" people again. I find my
way to the courts and my match starts on time. I had a great breakfast
and have plenty of energy and was ready to make it into the second
round. WELL.. It's now 95 degrees and it only took the warm-up time to
completely wore me OUT.!! I was playing the #1 seed (this little girl
from San Francisco) and after winning the first game, I was only able to
muster enough energy to win 2 more. I had nothing left. No serve, no
forehand, backhand, sidehand, underhand, spinhand or jerk off hand.!!
Then I had to watch the EMT's cart off someone from the court next to me
who fainted in the heat. Come to find out later that others suffered
the same plight. Robert and I quietly departed and headed back to the
Hotel in utter shame. By this time Patrick was in the middle of losing
his match. He managed to win more games than I but had problems with
the heat as many of the participants. Okay... Let's cool down, shower up
and go to Boys Town...dinner in boys town, pit-stop at the local
Jewel/Osco where Robert and Patrick gets star struck and follows Noah of
Noah's Arc around the grocery stores. Those girls are so drool.!!
\

Day 3....Monday, July 17th..
.breakfast anyone...??!..get up girls we're going to walk down Michigan
Avenue and find a cute little breakfast place.. Walk down to Michigan
and cuts over on Oak Street and finds a quaint little breakfast place
call "The Original Pancake House".. How many of these pancake houses are
really original..?!
.great breakfast..crowded little place and a couple tables over is this
cute guy who reminds us of Cuba Gooding, Jr. no Patsy Jean...that's
not Cuba...I can't really see him so I can't say..finish your tea and
let's get out of here..Oh.. I see him now...GIRLENE..that is Cuba Gooding
Jr..!!!..stop staring and pay the bill...Robert,, did you see who just
passed right in front of you..??..that was David Schwimmer of
Friends..no..
Yes girl...that was HER.!!..oh yes, says the waitress..he's here all
the time..we quietly leave in star-struck heaven, work our way back up to
Michigan Avenue, did a little shopping and I meet with my 22 year old
niece who's has been anxiously trying to get a hold of me all week...Hey
Unc...wanted to catch up, come watch your match and by the by .. I'm
GAY.!! What a thrill ..coming out to me on the Magnificent Mile...she's
knows all the bars.!!.
Girls been getting around..even has a 21 year old she's been dating for
6 months..(I'll be checking her out later.)..what a day we had
together.. It was wonderful. She painfully watched Patrick and I win 1 game in
our doubles match. Those bitches..4.0 players playing C's...all for a
medal..
.they lost in the next round.....

Day 4....Tuesday July 18th..
.Tennis is over so we start our Chicago Downtown tour.. We're up a
little late today but had a wonderful late breakfast in the Daly Center
after we stood in line for tickets for Wicked just to be told "we're sold
out for the remainder of the week".. Damn queens.!! Anyways, up and
down the streets of downtown.. These girls wanted to see this and that
and that and this in 100 degree weather..!!..fetishes for buildings...
Went to Millennium Park, Grant Park, Gay Park, Straight Park..ON THE
NERVES...back to the Hotel for a quick nap and Mexican dinner in Boys
Town.... I think it's time for a break..

Day 5...Wednesday July 19th..
.Robert leaves for Cleveland to see friends.. I go visit and spend the
night with my Mom, Patrick..??..she's on her own.....Lovely night with
Thunder and Lightening storms..!!..I missed them so....

Day 6....Thursday July 20th...
.lunch with Mom and meets Patrick at 4:30 we have an early dinner and
heads down to The Art Institute where admission is free on Thursday's
after 5:00...had a wonderful time...Gaugin, Monet and Saurets.. Oh my.!!
Spend 3 hours in the museum..I forget just how wonderful it
is....Robert returns and we lay around and reminisce on the day we spent apart
before I had to KILL THEM.!!!!!!!!!!!

.Day 7...plans are to head to Navy Pier nice dinner and BOYS TOWN.!!!!!

.Day 8...breakfast with niece and new girlfriend/Closing Ceremoinies
....BOYS TOWN..

..Day 9...KILL MY GIRLFRIENDS AND BURY THE BODIES....!!

Tony Hill, President

Seattle Tennis Alliance
--------------------------------------------------------------------------------------------------------------------------------------------------------------------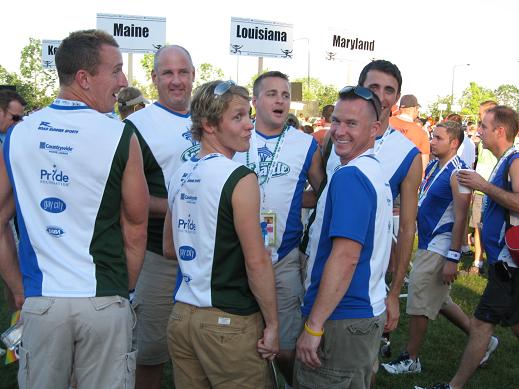 Softball hotties waiting to march outside Soldier Field. Nice logos boys.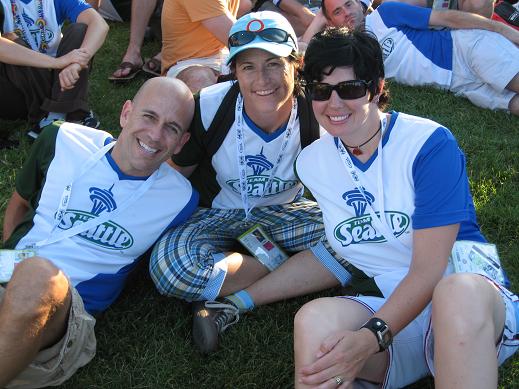 Waiting to march. Taking a break in the small shade of our banner.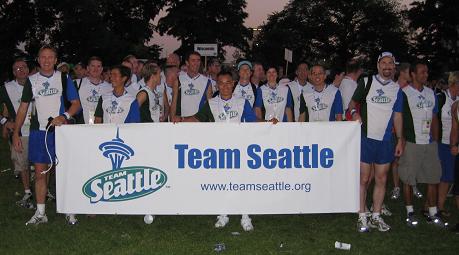 Time to march in the stadium. It is getting dark. Look Sharp!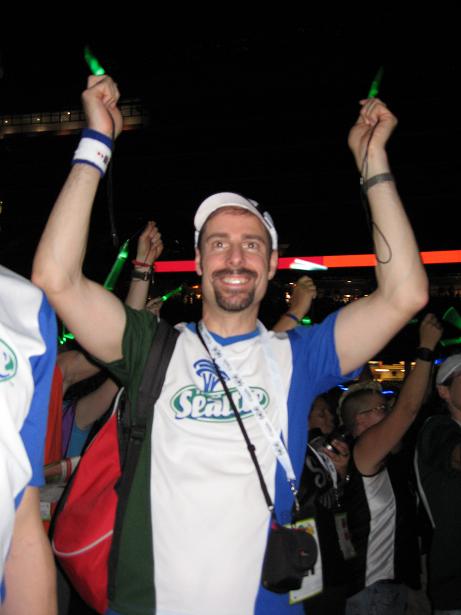 Tim is waving green pen lights.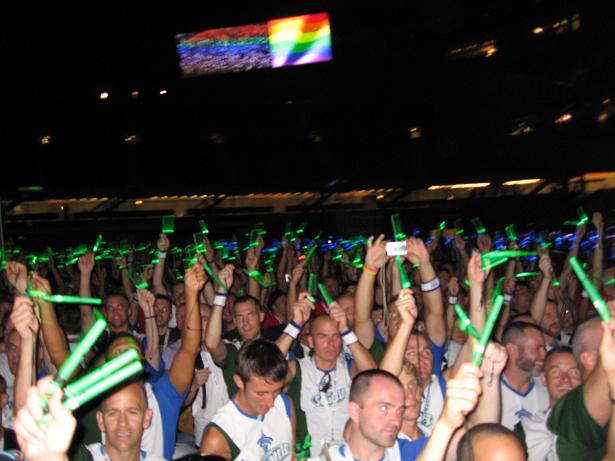 Team Seattle helps for the rainbow. We fill the entire stadium.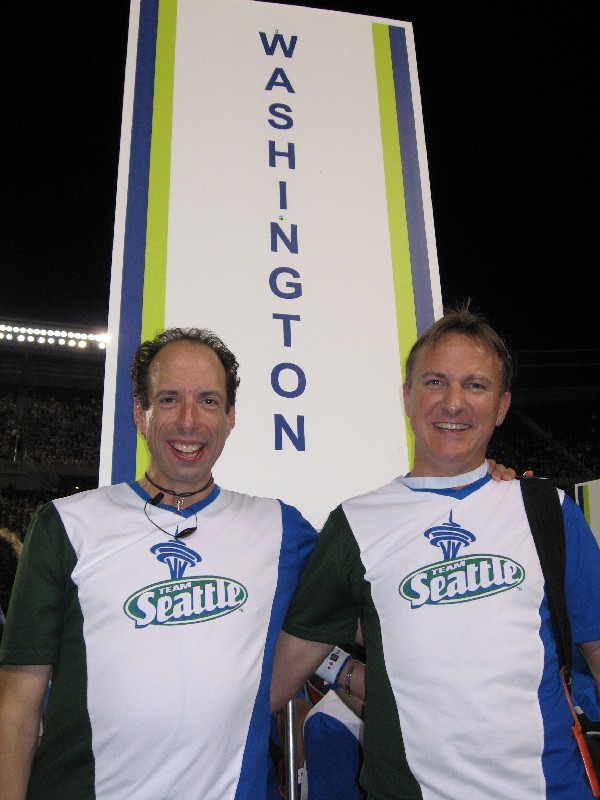 Robby Davis and Kelly Stevens. We made it!


Team Seattle exists to facilitate, provide and promote opportunities for lesbians, gays and their friends in all sports at all levels of ability, and to foster their physical and emotional health and well-being. We accomplish this mission primarily by providing an inter-sports resource network for athletes and sports leaders, by organizing Seattle's team to the Gay Games and by promoting Sport Events and Sports Festivals. Team Seattle is a member of the Federation of Gay Games and GLISA.
If you have questions about Team Seattle, our sponsored events or Seattle sports you may contact us at:
Team Seattle
1122 East Pike, PMB515
Seattle, WA 98122
phone: 206.367-4064

contact: Kelly Stevens (info@teamseattle.org)
Use the navigation bar at the top of these pages to learn more about Team Seattle events, sports contacts in Seattle and sports links on the internet.
For more information about Team Seattle e-mail: info@teamseattle.org.
To update the web site or make changes email: webmaster@teamseattle.org.

Click below to add a story or add your daily result.
Your Story will be added each night. Feel free to update us after each event each night, or any event that you are inspired to watch.